Episode Reviews - The Quest
---
Episode #43 - The Quest
Original Airdate - January 29th, 2005

Robin takes a journey to seek out the one known only as
The True Master. Meanwhile the Titans cope with Robin's vacation by dressing up as him.

Review by Amazing Spidey
Media by Bird Boy
Titans Writers
Written by Amy Wolfram
Directed by Ben Jones
Producer Glen Murakami
Producers Linda M. Steiner, David Slack
Music by Lolita Ritmanis
Casting and Voice Direction Andrea Romano
Animation Services by Dongwoo Animation Co., LTD

Titans Voices
Greg Cipes as Beast Boy
Scott Menville as Robin
Khary Payton as Cyborg
Tara Strong as Raven
Hynden Walch as Starfire
Takayo Fischer as Chui-hui
Kevin Micahel Richardson as Bear, Snake
Keone Young as Katarou
Screen Grabs



















Pans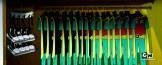 Sound Clips
"Not you Robin, the other Robin..."
(MP3, 119kb)
Review

Continuing season 4's strong run of episodes (well, episode), The Quest managed to show that Teen Titans might return to its former glory after a somewhat disappointing 3rd season. Last week's geek fest appeared to be a one off episode, now we're back to the more serious Titans tone.

The main focus on the episode was Robin's training, in a quest to be a better warrior. It was very Batman-ish, and there were a nice amount of subtle nods to the Dark Knight in the episode. I think it's cool we get these, but find it even cooler that we'll probably never see Batman. It would be very interesting to see of course, but ruin Robin's role as leader of The Teen Titans, which, as episodes like this show, he has deserved. Unlike the Justice League, which doesn't officially have a leader and could quite happily cope without Batman and Superman, The Titans would be lost without Robin. Their attempts to imitate him prove this. They also created some of the funniest moments Teen Titans has ever seen, and the "Not you Robin, the other Robin" proves how utterly adorable Starfire is.

Robin's quest was enjoyable, if not utterly predictable. I doubt there's a sole alive that didn't know that the Old Woman would be the one to train him. His journey was entertaining however. It's nice to see that Robin, the only Titan without any powers, does more than simply punch a bag in order to get hone his skills. It also does a great job portraying his obsessive character. We haven't seen any type of origin for Robin; so it's cool to see he did actually train instead of just being 'naturally gifted', like a lot of super-villains seem to be.

Overall, it was a very entertaining episode, if only for seeing everyone dressed up as Robin, and how cool he was about seeing them playing with his weapons. I hope season 4 continues this strongly!