Episode Reviews - Only Human
---
Episode #17 - Only Human
Original Airdate - January 31st, 2004

Back when Cyborg was a fully human athlete, he loved trying to do more than he thought he could do. He always gave 110%. But now that his muscles are mechanical, Cy's limitations are built-in. No matter how hard he tries, 100% is all he's got. But when the other Titans are captured, Cyborg is forced to fight a giant robot called Atlas. This cocky, competitive fighting machine is bigger, faster, and stronger -- and it looks like Cy doesn't stand a chance. Can Cyborg exceed his limitations and save his friends?

Review by Bird Boy
Media by Bird Boy
Titans Writers
Written by Adam Beechen
Directed by Alex Soto
Producer Glen Murakami
Producers Linda M. Steiner, Bruce Timm
Asst. Producer Kimberly A. Smith
Music by Lolita Ritmanis
Casting and Voice Direction Andrea Romano
Animation Services by Dong Woo Animation Co., LTD.

Titans Voices
Greg Cipes as Beast Boy
Scott Menville as Robin
Khary Payton as Cyborg
Tara Strong as Raven
Hynden Walch as Starfire
Keith David as Atlas
John DiMaggio as Spike
Screen Grabs












Pans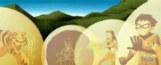 Sound Clips
The Titans Cheer Cyborg On
(MP3, 180kb)
"What do I have to make it do? Fly out my--"
(MP3, 156kb)
"Yeah...what she said!"
(MP3, 228kb)
"I..dominate you."
(MP3, 180kb)
"There must be a way out..."
(MP3, 164kb)
Robin talks with Spike
(MP3, 206kb)
Review

Every Titan has gotten a spotlight episode so far--Starfire was the first with "Sisters", Cyborg followed with "Sum of His Parts", then Raven in "Nevermore", Robin got his fill in "Masks" and both parts of "Apprentice", and Beast Boy hit season two with the second episode, "Every Dog Has His Day", and now Cyborg comes back with his second spotlight in "Only Human". That was a quick way to make this review longer than it really is, wasn't it? I thought so...

This episode, as Steel put it, "nothing really happened. It was funny, had all the stylistic elements; but other than that, it was pretty empty." And that's just the way it panned out--we were given a story in which we learn Cyborg can learn to push his limits. Did it need a full twenty-some minutes of animation? Probably not, but it did show how much Cyborg missed being completely human at first. Khary Payton really did a good job at displaying Cyborg's emotions, during both the initial scene with Cyborg and Robin, and the one of Cyborg's reflection talking to himself (Gollum, anyone?). And, of course, how could I not mention the bang up job Keith David did on Atlas? I've grown more accustomed to hearing him voice Spawn (from the HBO Spawn:TAS) than I have Gargoyles or even his stint as Despero in Justice League's "Hearts and Minds", but he seems to fit the character, no matter which ones he does. John DiMaggio (probably best known as "Bender" from Futurama) voiced Atlas's mechanic, Spike, and did an excellent job on that, as did the entire cast of this episode, now that I dwell on it more.

There's only so much you can say about an episode that accomplished very little, featured the same amount of animation you expected (and an over-abundance of those 'action panel''s) and the same music you come to expect. Perhaps Teen Titans is just settling itself in as another DCAU show, or I'm just not really that interested in talking about this episode further--but whatever, and wherever Teen Titans stands in the future, it'll be a stark contrast between what DCAU fans are used to.